Source: images-eu.ssl-images-amazon.com


Are you dreaming of a picturesque island getaway with stunning beaches, charming villages, and rich historical sites? Look no further than Milos Island in Greece! Whether you're a nature lover, a history enthusiast, or simply seeking relaxation, Milos Island has something for everyone.
Overview of Milos Island
Milos Island, located in the Aegean Sea, is a hidden gem waiting to be discovered by travellers. Known for its unique coastline and volcanic landscape, the island offers breathtaking beaches, crystal-clear turquoise waters, and impressive rock formations. Explore the famous Sarakiniko beach with its lunar-like white cliffs or relax on the golden sands of Paleochori beach. Don't miss the opportunity to visit the picturesque fishing villages of Klima and Firopotamos, where colourful boathouses along the shore create a charming atmosphere. Milos Island is also home to several archaeological sites and museums, such as the ancient theatre of Milos and the Catacombs of Milos, providing a glimpse into its rich history.
Best time to visit Milos Island
The best time to visit Milos Island is during the summer months of June to September when the weather is warm, and the sea is ideal for swimming. Avoiding the peak tourist season in July and August can ensure a more relaxed and peaceful experience. Spring and early autumn can also be great times to visit, with milder temperatures and fewer crowds. Consider attending the annual Milos Mining Museum Festival in July, where you can immerse yourself in the island's mining history and enjoy traditional music and dance performances.
Milos Island, Greece promises an unforgettable travel experience, combining natural beauty, cultural heritage, and warm Greek hospitality. Prepare to be captivated by its stunning landscapes and immerse yourself in this enchanting island's rich history and unique charm.
Getting to Milos Island
How to get to Milos Island by air
Flying is the best option if you want to reach Milos Island quickly and conveniently. Milos has its airport, the Milos Island National Airport (MLO), which receives direct flights from Athens and other major Greek cities. The flight from Athens to Milos is approximately 30 minutes, making it a hassle-free journey.
How to get to Milos Island by ferry
Taking a ferry is a great choice for those who prefer a more scenic and leisurely travel experience. Milos Island has excellent ferry connections with various Greek ports, such as Piraeus (Athens), Santorini, and Crete. The ferry ride to Milos takes longer than flying but offers breathtaking views of the Aegean Sea and the Cyclades islands.
Ferry schedules and prices may vary depending on the season, so it is recommended to check the official websites or consult with travel agencies for the most up-to-date information. The ferry journey duration depends on the departure port, but on average, it takes around 2-5 hours.
Once you arrive at the Milos Island port, you can easily reach your accommodation by taxi or car. Local buses are also available for transportation around the island, making exploring Milos and discovering its hidden gems convenient.
No matter which mode of transportation you choose, reaching Milos Island is an exciting adventure that sets the stage for an unforgettable vacation. So pack your bags, plan your journey, and get ready to explore the charms of Milos Island in 2023.
Exploring Milos Island
If you plan a trip to Greece in 2023, put Milos Island on your itinerary. With its stunning landscapes, crystal-clear waters, and rich history, this hidden gem is a must-visit destination for any traveller. Let's dive into what makes Milos Island so special.
Top attractions in Milos Island:
The Catacombs - Explore the ancient underground Christian cemetery dating back to the 1st century AD. It's an eerie and fascinating experience.
Klima Village - Admire the colourful fishermen's houses along the shoreline and take in the picturesque views of the Aegean Sea.
Sarakiniko Beach - Known as the "moon beach," this surreal landscape is like no other. The white volcanic rock formations against the turquoise water create a unique setting.
Milos Mining Museum - Learn about the island's rich mining history and see the tools and machinery used to extract minerals.
Must-visit beaches on Milos Island:
Sarakiniko Beach - Not only is it a top attraction, but it's also a must-visit beach for its mesmerizing beauty.
Tsigrado Beach - Hidden between cliffs, this secluded beach can only be accessed by climbing a ladder. It's perfect for those seeking a peaceful and private sunbathing spot.
Firiplaka Beach - With its golden sand and crystal-clear waters, Firiplaka Beach is an ideal spot for swimming and snorkelling.
Papafragas Beach - Explore the breathtaking sea cave formations and dip in the crystal-clear waters of this stunning beach.
Milos Island offers a unique combination of natural beauty, historical landmarks, and secluded beaches that cater to all types of travellers. Whether you're an adventure seeker, history buff, or beach lover, Milos Island will captivate your heart and leave you with unforgettable memories.

Things to Do in Milos Island
Water sports and outdoor activities
Welcome to Milos Island, a hidden gem in Greece that offers a plethora of thrilling water sports and outdoor activities for adventure enthusiasts. Dive into the crystal-clear turquoise waters of the island and explore its stunning coastline.
Feel the thrill of windsurfing or paddleboarding as you ride the waves. Kayaking along the rugged cliffs and hidden coves is another exciting way to discover the island's natural beauty. Try cliff-jumping into the cool waters below for those seeking an adrenaline rush.
If you prefer to stay dry, embark on a hiking expedition to witness Milos Island's magnificent landscapes. Trek through picturesque trails that lead to breathtaking viewpoints overlooking the Aegean Sea. Don't miss the chance to visit the famous Sarakiniko beach, whose lunar-like rock formations create a unique and surreal atmosphere.
Exploring Milos Island's traditional villages
Immerse yourself in the rich history and charm of Milos Island's traditional villages. Start your journey in the enchanting village of Plaka, perched on a hilltop and offering panoramic views of the island. Wander through its narrow streets adorned with vibrant bougainvillaea and discover hidden gems like quaint churches and traditional whitewashed houses.
Make a stop in the village of Klima, known for its colourful fishermen's houses built right on the water's edge. As you stroll along the shore, admire the unique "syrmata" boat garages and soak in the authentic fishing village atmosphere.
To taste local culture, visit the village of Trypiti, where you can explore ancient catacombs and the historic amphitheatre. Don't forget to indulge in the island's traditional cuisine at a charming local taverna, where you can savour dishes made with fresh seafood and local ingredients.
Milos Island offers a perfect blend of adventure, natural beauty, and cultural experiences, making it an ideal destination for every traveller. Start planning your ultimate trip to Milos Island in 2023 and create memories that will last a lifetime.
Where to Stay in Milos Island
Luxury accommodation options in Milos Island
You will not be disappointed when it comes to luxury accommodation in Milos Island. Several high-end hotels and villas offer top-notch amenities and breathtaking views. Some popular options include:
Santa Maria Village: This luxury hotel boasts elegant rooms and suites with stunning sea views. It also features a swimming pool, spa, and restaurant, ensuring a memorable stay.

Aeolis Hotel: Nestled on a hillside overlooking the bay, Aeolis Hotel offers luxurious rooms and suites with private balconies. The hotel also has a swimming pool, bar, and restaurant, providing guests with everything they need for a comfortable and enjoyable stay.
Budget-friendly accommodation on Milos Island
For those travelling on a budget, Milos Island has plenty of affordable accommodation options that offer comfort and convenience. Here are a few budget-friendly choices:
Milos Camping: If you're looking for a unique and inexpensive option, Milos Camping is a great choice. They offer camping sites, as well as budget rooms and bungalows. The campsite provides a communal kitchen, bathroom facilities, and a scenic setting close to the beach.

Tania Milos Studios: In the charming village of Adamas, Tania Milos Studios provides comfortable and affordable accommodation. The studios feature fully equipped kitchens, private balconies, and a friendly atmosphere.
No matter your budget, Milos Island has a wide range of accommodation options to suit your needs. From luxurious hotels to affordable studios, you can find the perfect place to stay and enjoy all the beauty this Greek island offers.
Dining and Nightlife on Milos Island
When exploring the beautiful island of Milos in Greece, you'll be delighted to discover a vibrant dining and nightlife scene. From delicious local cuisine to lively bars, this island has something to satisfy every taste.
Top restaurants to try on Milos Island
Medousa: Located in the picturesque fishing village of Klima, Medousa offers an unforgettable dining experience. Enjoy fresh seafood while admiring the stunning sunset views.

O Miradouro: Situated in Plaka, the capital of Milos, O Miradouro is known for its Mediterranean dishes with a creative twist. Delight your taste buds with their mouthwatering menu.

Morus Art Restaurant: This unique restaurant in Adamantas offers delectable cuisine and features rotating art exhibitions. Enjoy a fusion of flavours and immerse yourself in the vibrant art scene.
Nightlife options on Milos Island
Ax Club: Located in the heart of Adamantas, Ax Club is a popular spot for both locals and tourists. Dance the night away to the latest hits and enjoy refreshing cocktails.

Kalinka: Situated in Plaka, Kalinka is a charming bar known for its relaxing atmosphere and delicious cocktails. Unwind with a drink while enjoying the breathtaking views of the Aegean Sea.

Palaios Hill Beach Bar: Located in Paliochori, this beach bar offers a unique nightlife experience. Dance under the starry sky and enjoy live music while sipping your favourite drink.
Whether you're a food lover or a party enthusiast, Milos Island has a diverse range of dining and nightlife options to explore. Indulge in the island's culinary delights and let loose in the vibrant nightlife scene for an unforgettable experience.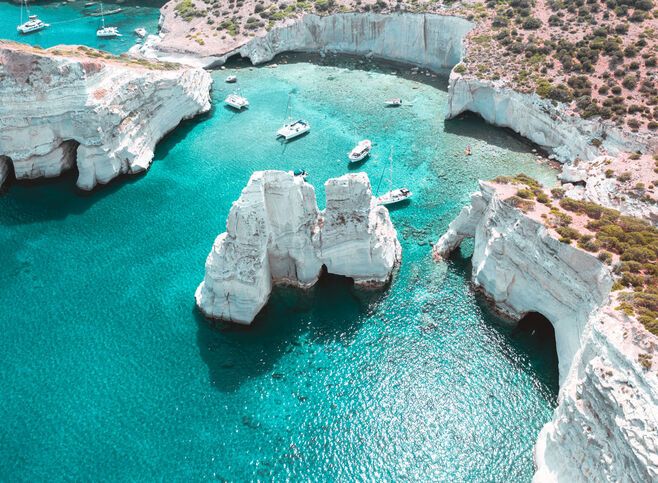 Day Trips from Milos Island
Visiting nearby islands from Milos Island
If you're looking to explore beyond the scenic beauty of Milos Island, you're in luck. Several nearby islands make for perfect day trips. One of the must-visit islands is Sarakiniko, known for its breathtaking lunar landscape. You can take a short boat ride from Milos and spend the day exploring the unique rock formations and crystal-clear waters.
Another island worth exploring is Kleftiko, famous for its stunning sea caves and turquoise waters. You can join a boat tour or rent a private boat to reach this hidden gem. Snorkelling and swimming in the caves are absolute must-do activities.
Exploring the surrounding area of Milos Island
If you prefer to stay on land, there are plenty of options to explore the surrounding area of Milos Island. One popular destination is the traditional fishing village of Klima, known for its colourful houses built right by the sea. Stroll along the waterfront and indulge in fresh seafood at a local tavern.
Another fascinating place to visit is the ancient Roman amphitheatre in Phylakopi. This archaeological site offers a glimpse into the island's rich history and stunning views of the Aegean Sea.
No trip to Milos would be complete without a visit to the unique Catacombs of Milos. These ancient burial chambers are located just outside the village of Tripiti and provide a fascinating insight into the island's religious and cultural past.
So, whether you're an adventure seeker or a history buff, Milos Island offers a variety of day trip options to cater to your interests and make your visit truly unforgettable.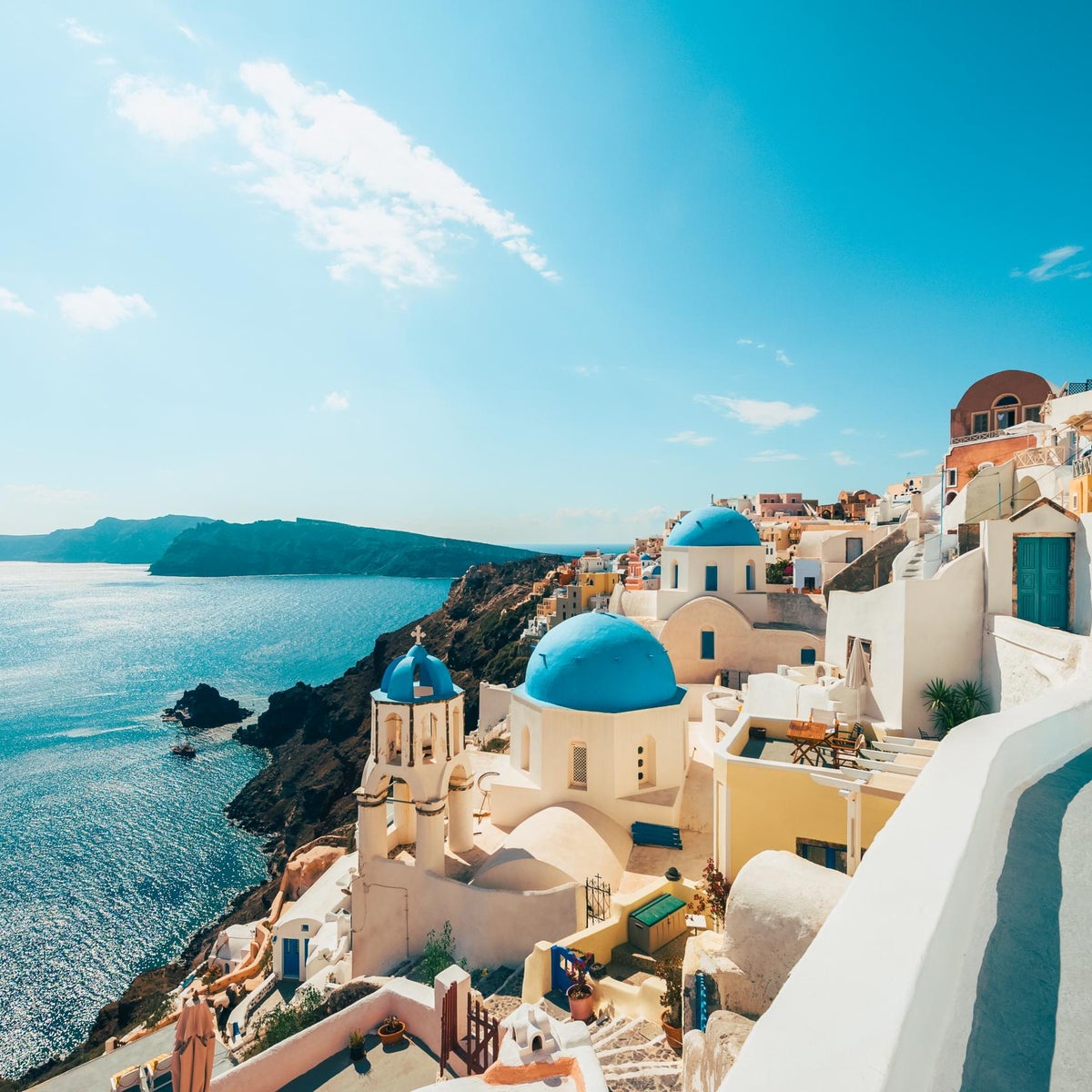 Travel Tips for Milos Island
Currency and money-saving tips
When planning your trip to Milos Island, knowing about the local currency and how to save money during your stay is important.
Currency: The official currency of Greece is the Euro (€). Exchange your currency before arriving on the island or withdraw cash from widely available ATMs.

Payment options: Most establishments in Milos Island accept credit cards, but having cash on hand is always useful, especially when visiting smaller local businesses or markets.

Budget-friendly dining: Milos Island offers a variety of seafood taverns and local eateries. To save money on meals, consider dining at smaller family-owned restaurants or trying the local street food options.

Transportation: Milos Island is relatively small, making it convenient to explore by renting a car, scooter, or ATV. This allows you to visit different beaches and attractions at your own pace. Compare rental prices and book in advance to secure the best deals.
Local customs and etiquette in Milos Island
Understanding and respecting the local customs can greatly enhance your travel experience in Milos Island. Here are some tips:
Greeting etiquette: When meeting locals, greeting them with a handshake and maintaining eye contact is customary. Greeks are known for their warmth and hospitality, so don't be surprised if you receive a friendly welcome.

Dress code: Milos Island has a relaxed atmosphere, but it's important to dress appropriately when visiting places of religious significance. Men and women should cover their shoulders and knees in churches, monasteries, and other holy sites.

Explore local culture: Immerse yourself in the vibrant culture of Milos Island by participating in local festivals and events. This allows you to witness traditional music, dance, and customs.

Respect the environment: Milos Island is home to stunning natural landscapes, so preserving the island's beauty is important. Respect the environment by not littering and following designated paths when exploring nature trails.
Remember, embracing the local customs and being respectful will enrich your travel experience and create lasting memories on Milos Island.
Useful resources for planning your trip to Milos Island
Before embarking on your journey to Milos Island, make sure to check out these helpful resources:
Book your accommodations and ferry tickets in advance, especially during the peak travel season, to ensure a smooth and enjoyable trip.
So pack your bags, grab sunscreen, and prepare for an unforgettable adventure on Milos Island, where beauty and serenity await you at every turn.